The fourth edition of the Starak Family Foundation's "Wena" Grant Programme Competition in the 2022/2023 school year - a competition for an educational and artistic project entitled "The art of repairing the world". The implementation of the awarded projects has begun.
The competition task for this year's edition was to prepare an original, educational and artistic project reflecting the theme of caring for a world that is broken and hostile to us, as well as an object, a feeling or a relation.
The jury selected for implementation and awarded ten socially engaged art projects that bravely attempt to change the world for the better! The authors of the projects define the title "repairing the world" in various ways. Sometimes they seek a universe, in other cases, they focus on the climate crisis and concern for the planet. Teachers also proposed rebuilding broken relationships through an interdisciplinary Polish-Ukrainian workshop, conceptual art or forms of street art.
This year's edition of the Competition refers to the work of Jerzy Ludwiński, critic and writer, and lover of conceptual art. In the 1970s, the artist compared art to… glue. Art joins together different, seemingly incompatible elements, fills in the gaps and makes our lives full of surprises.
Even if we don't manage to 'fix' something with its help, we may want to use our drawings, installations, actions, sculptures and photographs to encourage others to fix one small thing in the immediate environment.
In the Foundation's activities, through organised competitions, we develop the artistic education of young people, shaping their creative and social attitudes. We promote phenomena in art, based on values, on the confrontation of good with evil. In this way, we try to repair the world, and young people in art high schools gain the tools to express themselves through art, to be free in their creativity and to approve or clearly oppose it.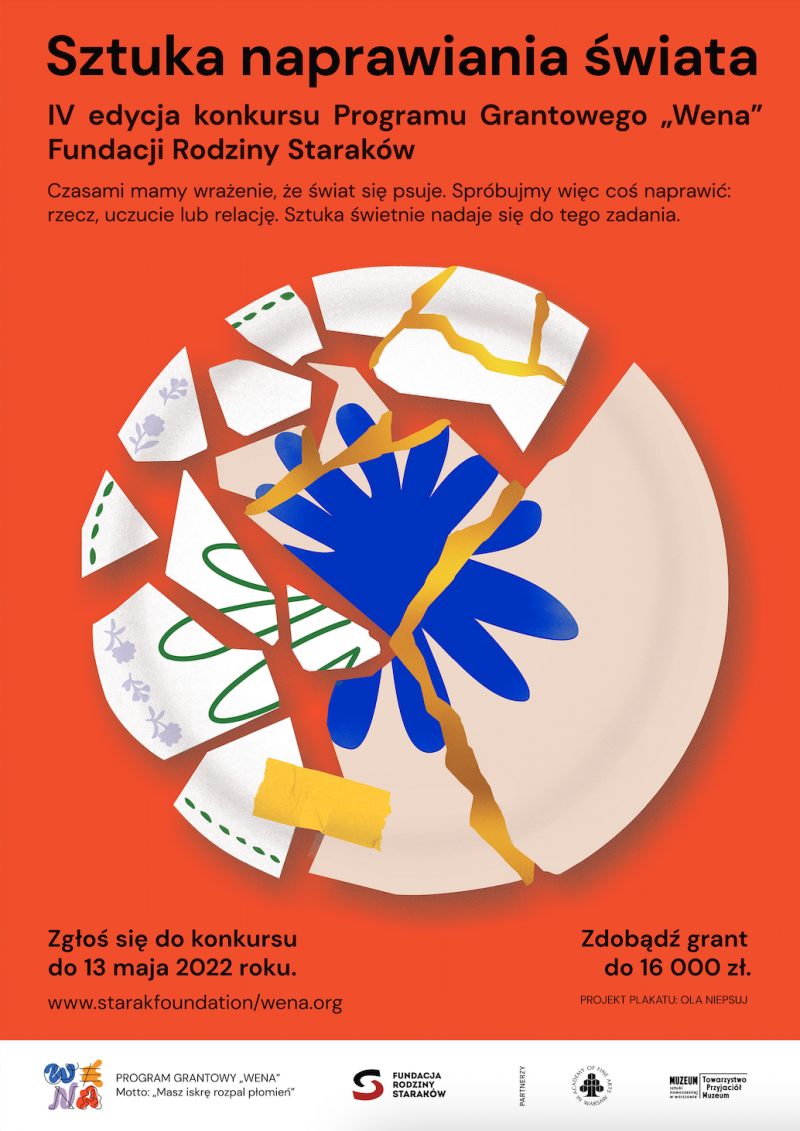 The partners of the 4th edition of the "Wena" Competition are:
Academy of Fine Arts in Warsaw
Society of Friends of the Museum of Modern Art in Warsaw
Below we present the awarded projects from the 4th edition of the "Wena" Grant Programme Competition of the Starak Family Foundation entitled "The Art of Repairing the World":