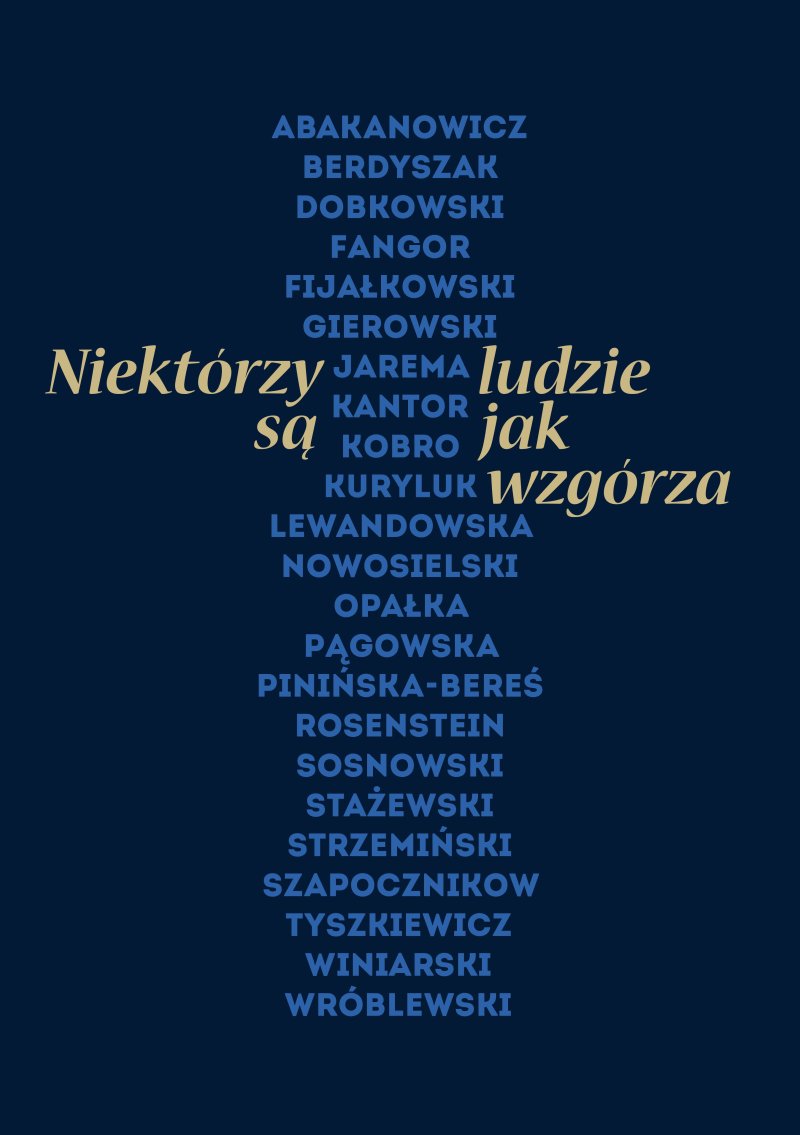 Some People are like Hills
10th Anniversary of SPECTRA ART SPACE
28th January - 7th May 2023

Artists:
Abakanowicz ・Berdyszak ・ Dobkowski ・ Fangor ・Fijałkowski ・Gierowski ・ Jarema ・Kantor ・Kobro ・Kuryluk ・Lewandowska ・Nowosielski ・Opałka ・Pągowska ・Pinińska-Bereś ・Rosenstein ・Sosnowski ・Stażewski ・Strzemiński ・Szapocznikow ・Tyszkiewicz・Winiarski ・Wróblewski
Some People are like Hills
10th Anniversary of SPECTRA ART SPACE
28th January - 7th May 2023
curator: Ania Muszyńska
Some People Are Like Hills exhibition, build on the most extraordinary figures in the collection, and hence in the Polish post-War art. The title is derived from the poem titled "Hills" by Guillaume Apollinaire, one of the founding fathers of modern poetry, an outstanding art critic, an apologist of avant-garde directions, and finally the author of the term 'Surrealism'. This poem is a prophetic vision of the coming "new world" and new art, a world built on the rubble of experiences of the Great War, simultaneously filled with the energy of construction, which gave rise to contemporary art, with a multitude of directions and an imagination freed to the limits. Without this experience, the art we know today would not be present. It was that time that became a foundation on which its new definition and its new forms of reception and impact were built, and Apollinaire himself and his poem became a symbol of that moment. Described as one of the crucial texts of the 20th century, "Hills" has been often referred to in art. Our exhibition is opened by the series of gouaches by Andrzej Wróblewski, which illustrate the particular stanzas. Apart from that, the exhibition presents works by: Magdalena Abakanowicz, Jan Berdyszak, Jan Dobkowski, Wojciech Fangor, Stanisław Fijałkowski, Stefan Gierowski, Maria Jarema, Tadeusz Kantor, Katarzyna Kobro, Ewa Kuryluk, Danuta Lewandowska, Jerzy Nowosielski, Roman Opałka, Teresa Pągowska, Maria Pinińska-Bereś, Erna Rosenstein, Kajetan Sosnowski, Henryk Stażewski, Władysław Strzemiński, Alina Szapocznikow, Teresa Tyszkiewicz and Ryszard Winiarski.
We pay homage not only to all Masters who accompanied us for the past 10 years, but above all to Anna and Jerzy Starak, whose commitment, vision and dreams contributed to the creation of one of the most significant private post-War art collections in Poland.
Exhibition open at Spectra Art Space at Bobrowiecka 6 in Warsaw,
everyday, 10am - 6 pm.